Our Story
Holsem was founded with a simple mission, to make our flavored coffee indulgences better. Better flavor, better feeling and better for the world.
Since 2015, the founders of Holsem Coffee have been tirelessly crafting flavor experiences that are as good to drink as they are for your body. Meeting the high roasting standards of the world's specialty roasters and sourcing the purest, most flavorful, natural ingredients, Holsem Coffee has created a uniquely indulgent instant flavored-latte line. The delights of fresh blueberries or the sensations of pure maple syrup are blended with freshly roasted premium coffee in an uncompromising pursuit of exceptional flavor and an indulgence you can feel good about.
---
Our Values

We Can Do Better, So We Did.
Holsem is about making good food more accessible, because we all have the right to eat well.

Nature is more delicious
From source to roast to cup, Holsem believes that the flavors we experience naturally, with a focus on origin and craft, are the essence of the taste experience.

Flavor is the heart of coffee roasting
Holsem embraces the fruits of remarkable coffee flavor pairing the sensory delights of exceptionally roasted coffee beans with the comforting abundance of flavors found in nature.
---
Meet Our Founders
Salpi and Muna think it's okay to want it all - quality coffee that's naturally flavored, and ready in seconds. With the brand name coffee roasters giving flavored instant lattes a bad reputation, they saw an opportunity to satisfy their cravings and spread some all-natural joy.
Muna Farhat
"As I learned more about the origins and politics of food, I quickly realized that the options of healthy flavored coffee and latte beverages were very limited. I wanted to enjoy a fun, flavor filled coffee experience without sacrificing the quality or source of ingredients. Knowing that you're drinking a cup of blueberries is so much more uplifting and wholesome than artificial flavor crafted in a lab. That's what we do at Holsem, give you real ingredients that nature made for us all to enjoy."
Muna's Favorite Latte:
My favorite latte is our Blueberry Maple Latte Blend. It's paired with our coffee house blend, which has rich chocolate flavor notes that compliments the sweet, vanilla notes of the blueberries.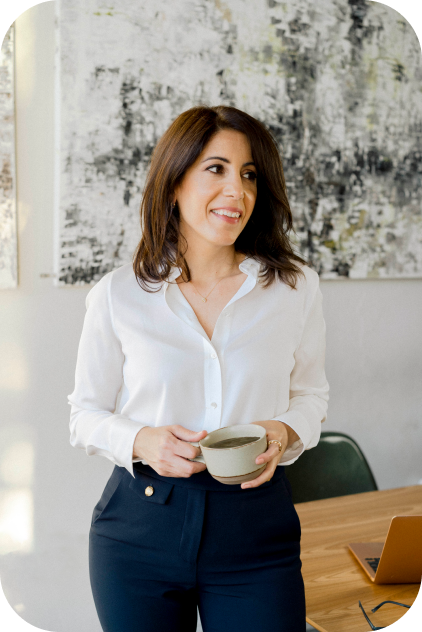 Salpi Sleiman
"Since coffee is a fruit, we thought it only natural to pair our beans with real fruit like ripe, organic blueberries and citrusy orange zest to create instant latte blends that are as wholesome as they are delicious! Our philosophy is simple: meticulously roast to enhance the natural characteristics of the beans and really let the essence of the fruit shine."
Salpi's Favorite Latte:
I'm a purist, so I love a classic oat milk latte, using our Guatemala single origin espresso. The sweet and caramel-like flavor profile of the Guatemala pairs so well with the creamy, earthy oat milk.